A concentration of freight logistics is being built in Seinäjoki
Several commercial cargo drone daily flights will start from Seinäjoki during 2022. A long term vision is to have direct cargo flights from China to Seinäjoki. For e-commerce companies already operating in Seinäjoki, this new solution provides a more efficient and ecological logistics route to reach their customers in Europe. Among other things, Seinäjoki Airport will be built as a freight and passenger logistics center with such goals.
Passenger and freight traffic is projected to even double from China to Europe by 2037. As a result, there is a growing need in Europe to develop rural airports outside major cities. Climate change is also forcing the development of more ecological ways for aviation to travel and move from one place to another. This development can create new types of business opportunities even for companies in the Seinäjoki area.
Into is a partner in a European co-operation project that aims to create a plan and a roadmap for the ecological future of rural airports and to activate rural airports. In addition to Seinäjoki Airport, other partners in the Airport Hub project are rural airports in Estonia, Slovenia, Italy and Greece.
AirportHUB
International cooperation network for activating rural airports
An overview of the current situation and future opportunities
Finding the hidden gems in tourism
Cooperation with China
– Education export
– Business opportunities for SMEs
– Digital matchmaking platform
Seinäjoki Airport Development Visions
Droneport for European Drone Freight Network
Logistics hub for e-commerce
Freight Logistics Center
Living lab test environment e.g. drone test flights, technology pilots, tire tests, etc.
FAIR project
Preparing for the future of electric air transportation
Partner in the Kvarken Cooperation Network
Increasing knowledge about the possibilities of electric flying
Accelerating the introduction of regional electric flights
Getting ready for electric flights in the region
Launching cross-border innovation processes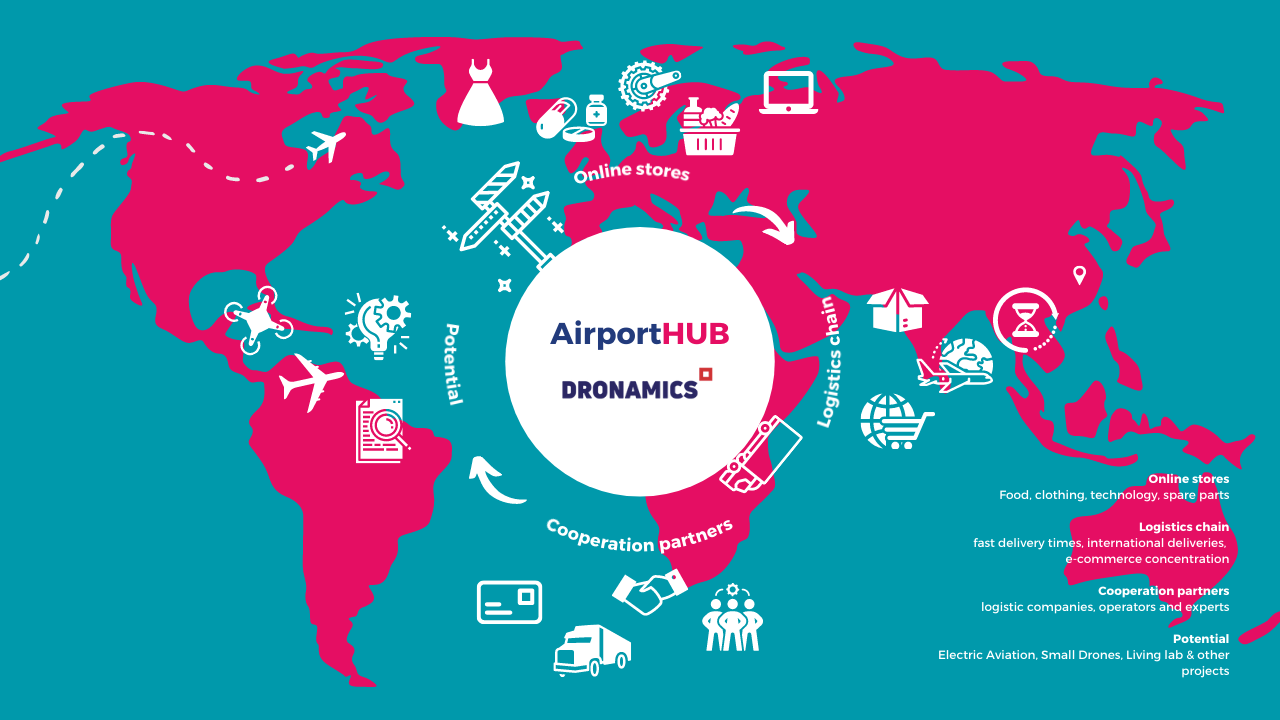 Dronamics
Dronamics, the world's leading developer of unmanned cargo transportation over medium distances, will also start operating from Seinäjoki Airport. Seinäjoki Airport is the first in Finland to sign a cooperation agreement with the British-Bulgarian company. The goal is to start unmanned drone transport in 2022.
Read more about Dronamics.
Black Swan
Dronamics' European drone freight network is the first of its kind in the world. It will eventually include an estimated 35 fields in 11 European countries. The company's mission is to offer an affordable one-day delivery service. Dronamics has patented the fixed-wing Black Swan transport drone, which can transport up to 350 kilos of cargo at a time and operate within a radius of as much as 2,500 kilometers.
FAIR project
FAIR (Finding innovations to Accelerate the Implementation of electric Regional aviation) is preparing the Kvarken region for an early implementation of electric aviation. The project increases the knowledge base about electric aviation, investigates the possibilities and surveys both the needs and the required technical investments.
FAIR is a first step towards a rapid introduction of sustainable aviation in the Kvarken region.
Read more about the project.